Our Mission Statement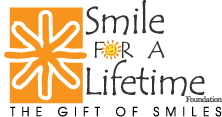 At Smile for a Lifetime Foundation it is our mission to create self-confidence, inspire hope and change the lives of children in our communities in a dramatic way. The gift of a smile can do all this for a deserving, underserved individual who, in turn, can use this gift to better themselves and their community.
Program Description
Smile for a Lifetime Foundation is a charitable non-profit organization that provides orthodontic care (free braces) to individuals, ages 11-18 years of age, who may not have the opportunity to acquire assistance any other way. Dr. Jeff Genecov donates his services; there is absolutely no charge to the patient for the duration of their orthodontic treatment. Our local chapter, North Texas Smile for a Lifetime Foundation, aims to reach individuals with financial challenges, special situations and orthodontic needs. The Foundation sponsors the orthodontic care of six outstanding youths throughout the DFW metroplex.
The national Smile for a Lifetime Foundation has participating orthodontists throughout the US and Canada. Each chapter has its own local board of directors who select patients to be treated. The process is competitive. Our local board of directors meets quarterly to review applications.
Guidelines in applying for braces through Smile for a Lifetime Foundation:
Applicant questionnaire must be handwritten and answered by the applicant.
Applicant must be a resident of the Dallas/Fort Worth area.
Applicant must have a significant aesthetic need for braces.
Applicant must demonstrate financial need.* (185% National Poverty Guidelines)
Applicant must be between 11 to 18 years old (For further questions please contact your local Smile for a Lifetime Chapter)
Applicant must be a currently enrolled student Applicant should demonstrate a positive attitude
Applicant must agree to follow the treatment plan and demonstrate the ability and commitment to make all appointments on time
Applicant is encouraged to display involvement and leadership in extracurricular activities
Applicant must be willing during the treatment period to "pay it forward" by completing a minimum 20 hours of community service per year
Two Letters of Recommendation are mandatory.