Click here to download our COVID-19 Screening Form
Dear Genecov Orthodontics Patients,
We hope this letter finds everyone healthy, happy, and prepared to slowly begin the return to routines. We are all ready to get back to work, see everyone again and continue your journey towards an awesome smile.
The COVID-19 pandemic has affected everyone; responses are being updated daily. We want to update you on our office, it's measure reopening and the steps we are taking to keep our patients, our team and all their families healthy. We will be following rigorous protocols to ensure the wellbeing of everyone connected with Genecov Orthodontics.
We ask for your patience. We had to reschedule hundreds of appointments and we know that there is a strong desire to get your treatment back on track as soon as possible. We will, but it will not be as efficient as we are used to in our office. We will have to be very firm in our processes and procedures. They have been well-thought-out and reviewed countless times by Dr Genecov and our entire team.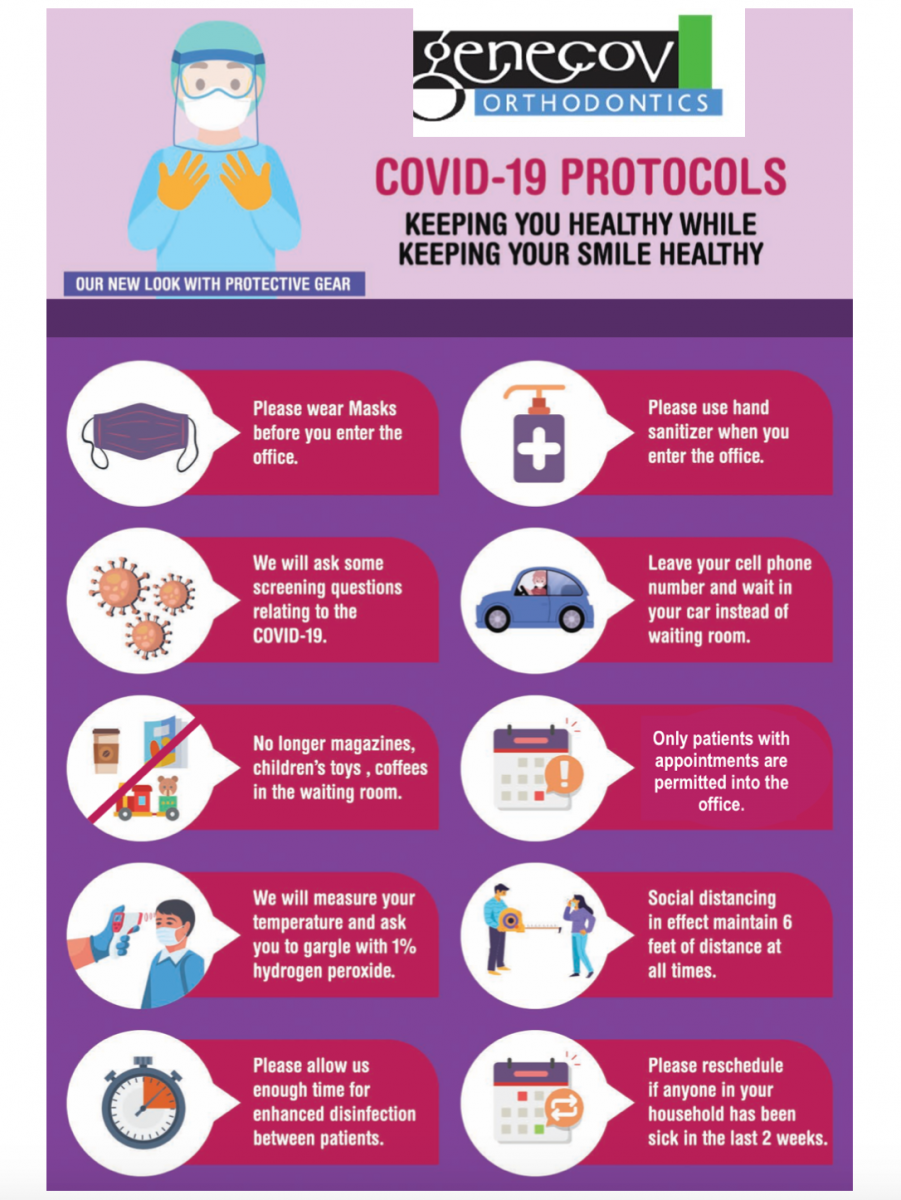 You will need to complete the Patient Screening Form that is located on our website and bring it to the appointment. Our office will communicate with you beforehand to ask some screening questions.We ask that you fill out this screening form before arriving for your appointment:
We ask that our patients brush their teeth thoroughly and wash their hands prior to arriving to the office. We will be suspending the tooth brushing station at our office.
Our public restroom will not be available.
Arrival at office:
Patients only will be allowed in the office, except for those under 7 years old. Parents please wait in the car. New patients may have one parent accompany them.
All patients will be subject to a wellness screening including temperature checks. Patients with temperatures greater than 100 F will be asked to return home and contact their physician. Appointments will be rescheduled at least 14 days out.
We ask that our patients wear face coverings when they enter the office. Anyone without a mask will be asked to reschedule.
A clinical assistant will escort the patient to their treatment chair.
Patients will rinse with 3% hydrogen peroxide mouth rinse in a cup at the chair.
Patients will be seated every-other-chair in the office to maintain social distancing.
Individuals with multiple broken brackets may not have everything completed during this visit due to strict scheduling times.
Assistant will escort patients out after treatment.
Parents may call to schedule next appointment. Our appointments will be managed to allow for social distancing between patients. That might mean that you're offered fewer options for scheduling your appointment.
We will do our best to allow greater time between patients to reduce waiting times for you, as well as to reduce the number of patients in the reception area at any one time.
What Else Are We Doing?
PPE for team members- Masks, gloves, face shields, etc.
We will take the temperature of every team member, including the Doctors, immediately upon arrival to work, and after lunch.
Every team member will answer the health questionnaire that our patients are required to answer, every day.
Set up to allow for social distancing
Suspension of our tooth brushing area
Counters have been cleared of all nonessential removable items
We have removed all removable items from the reception area
Enhanced cleaning/disinfecting of office surfaces and common areas
Orthodontic supplies and appliances have been pre-packaged in a sterile environment
We are so grateful for every one of our patients, and this time away has only served to make us even more thankful for each of you. You are the life-force of our practice, and this is why we are taking your safety VERY seriously. We would ask for your patience and understanding. Expect that your treatment progress has been delayed, as has your estimated completion time. We wish that were not the case, but it is. Please forgive us as we are focusing on getting each of you back on track while not exposing our team members, their families or yours.
Dr. Genecov, Dr. Brothers and Team